The day I returned to the Studio – a yoga teachers perspective
How do I feel about going back to class? I haven't been out much since March 2020, probably less than many. I've been very much a home bird so I didn't' mind at all, and coped with the meltdowns along the way. It felt like a big day with all kinds of birds...
After 15 months of teaching my yoga classes on zoom, I was hesitant to go back into the studio instead of going to my home office and switching on zoom – how inconvenient and time-consuming to have to go somewhere.
I left early and arrived really early, there was a kind of low level buzzing sinking and rippling through my chest and down into by belly that I recognise as nervous agitation, a little danger – I smiled - dangerous to go teach my yoga class, wow that's peculiar notion.
So I decided to go for a walk in the park on the way to prepare, round the lake once to self-regulate. A couple passed me arguing in a language not known to me with a child lagging behind them running a stick along the railings to drown out their raised voices. Here is life with all its hard edges and metallic bars. As I find the path, it opens out wide, the sky is filled with fluffy clouds, so many ducks and ducklings, geese and goslings gliding on the surface brings me back to the present moment – fluff and feathers, soft and smooth, sashaying and feeding, parents protecting. People walking and stopping, smiling and sharing delight at the sight of them.
I walked into the yoga studio feeling ready and a little softer around the edges. I blessed the space with my intention to be present, friendly and alert, to create safety and inclusion as much as I can. Only 8 spaces marked out by tape on the floor, the wooden floor slightly sticky with disinfectant.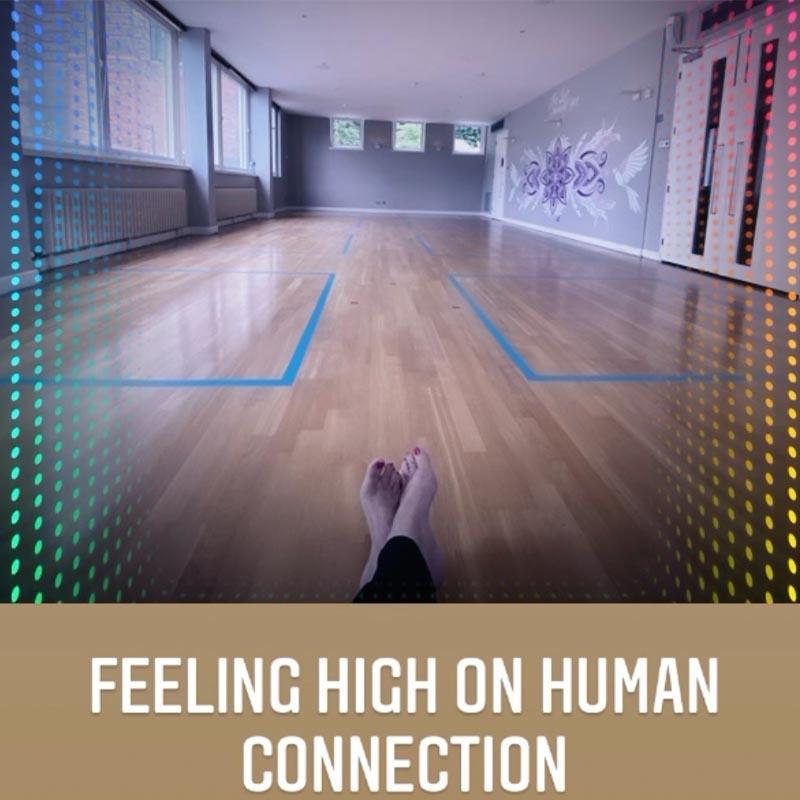 As students arrived, I was aware I didn't know most of them, I felt very sensitive to their personalities and facial expressions, their pace as they moved into to the room and laid down their yoga mats, how they connected with others, what they said without needing to 'unmute'.
As we started to move, there was no 'mute all for the recording' – a few asked questions during the class, there were no props to assist, I was observing from my "do not cross the line" box at the front.
I was really looking and listening, aware of being with real-sized bodies that I could see - their limbs and their skin were super-clear. I was surprised by how different bodies moved and could feel so much holding... I felt concern as I couldn't tell from their faces how my therapeutic style was being received. I stayed with them, feeling into what would serve them best – warm up, flow, unblock, transition, release, breathe…words started to come out of my mouth I had not prepared for – I was finally in the flow.
I was present, intuitive and sensitive to them, able to respond in the moment to what was happening in front of me as much as I can ever know. At the end of the class, I invited them to look around the room at each other, to breathe together and acknowledge that we have been sharing space and energy as a communal practice. They smiled…apart from one. Yes, I had felt their energy, not only their frozen shoulder but all through them and the class. I wondered if she will return to defrost some more next week.
Ah I felt real energy in a real room, how refreshing. My body and mind said 'YES!'.
As we left the room, there was time to walk and talk about haircuts and family, nostalgia and hope.
I was elated on my journey home, Mozart was playing on the radio. As I stopped at the traffic lights at the top of the hill, a middle-aged man on roller skates swung close to my car and started to move down the hill with grace, circling and sashaying like a bird on a lake – I turned to watch him in his flow dancing with joy - so beautiful.
Ahh so this is life, this is OUT, I've been at home a lot, on the screen every day.
So what did I learn? I'm going to get out more! Human connection is good for the soul, art in the making, expression in many forms. All of us together in our differences, impacting in our nervous system in all kinds of ways. I can become softer around the edges and not on danger alert so much – hope is here. Wow this felt like a big day for me. How was it for you?