How to choose a yoga mat
how to buy the yoga mat
---
If you are buying your first yoga mat, you may not know how to choose one. There are so many brands, names, sizes, colours, names - how do you know what's right for you?
Having your own mat is hygienic - with hot sweaty yoga and bare feet, it's preferable to bring your own to class so you know where its been.
A bit of nostalgia - or scroll down the page to what to look for...
It makes me nostalgic to think about the days before yoga mats when we used a blanket for yoga practice. I met a yoga teacher a few years back who remembers the first time Iyengar came to the UK in the early 60s, and recalls that before he brought his revolutionary yoga-changing ways to the UK, people didn't teach standing poses as yoga was mainly practiced on the floor like pilates. Tights and socks were worn in chilly church halls (if the vicar allowed such devil-worship in his church), and it was only when Iyengar came to town that he ordered socks off, stand up, bear feet, feel divine energy in your little toe...and the wooly blanket and the cold floor didn't quite cut it. It was still a long time until yoga mats became accepted, and the first ones looked like giant medical plasters, that kind of pinky skin tone so you knew it was good for you. Occasionally, I still see a few of those 'antique' yoga mats being carried around by women of a certain age, clinging lovingly to their original yoga mat. Just out of curiosity, let us know if you've still got yours!
So now, its quite a different story. Yoga is big business, the yoga mat has become part of a yogi's essential kit not only to practice on, but to carry around in a stylish yoga kit bag to let people know you're one of the yoga community. All kinds of yoga candy is available to suit your practice and your personality.
What to look for in a yoga mat:
1. Good Grip - some people sweat more through hands and feet so the mat should not allow you to slide. Try a down dog, its THE grip test. If your mat is new and a little bit slippy, we always recommend rubbing it with a damp cloth, leave it to air like a good wine, and if you're hard-core, use some alcohol rub to take off any residual shiny surface!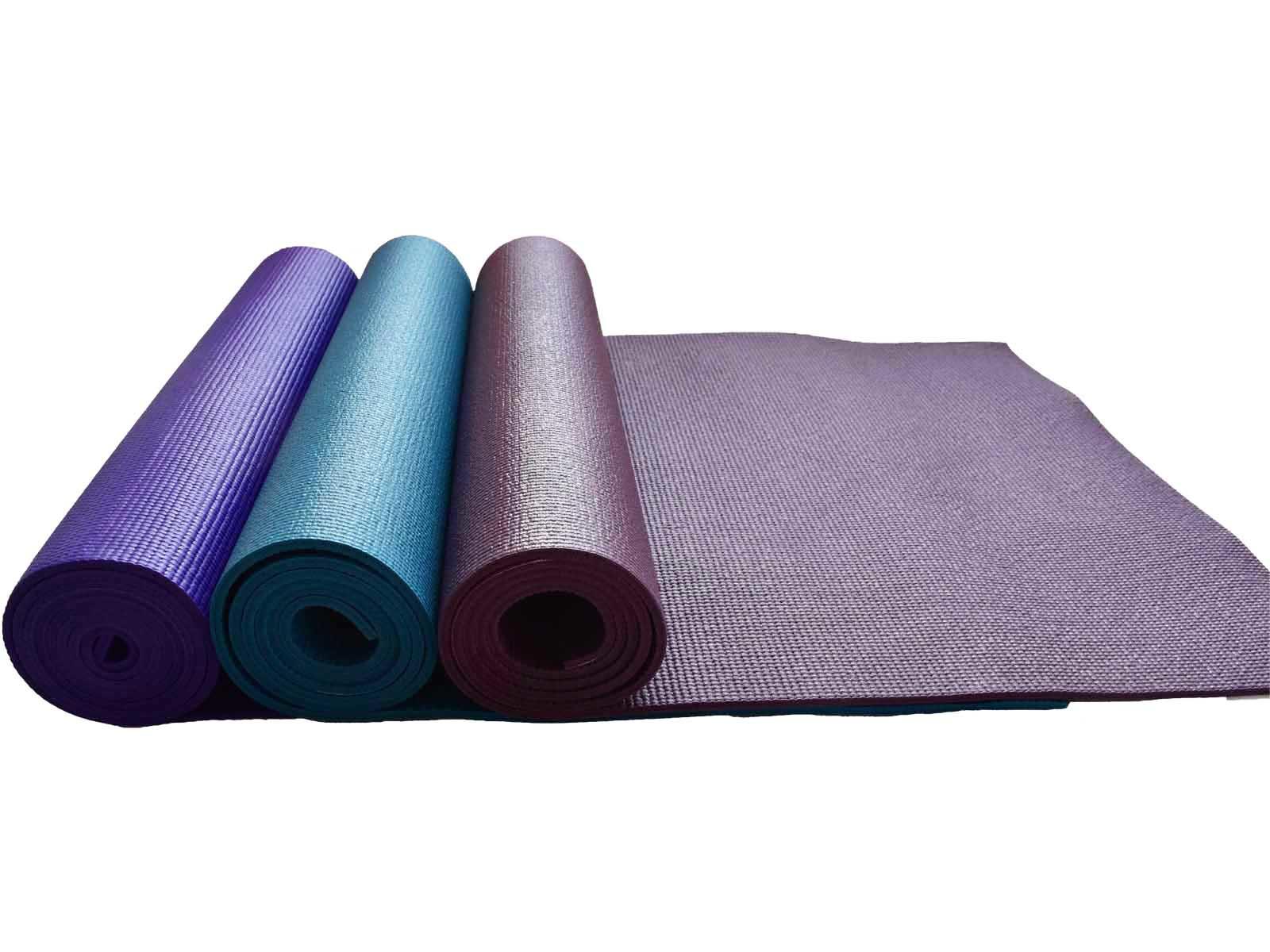 2. Good cushioning - its important to protect your knees when on hands and knees, your spine when you're on your back, and hips on your front. A standard mat is usually 3-4mm thick, a good thick mat is 6mm. Pilates mats are usually much thicker but heavy! Make sure your mat protects you where you need it - be kind to your body, yoga is all about non-harming! A standard mat is usually 3-4mm thick, a good thick mat is 6mm.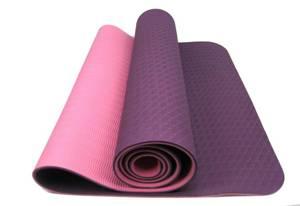 3. Weight - if you're travelling with your mat, you may want a lightweight one 4mm or less - otherwise mats are usually between 1-1.5kg. For home practice, you could go a bit heavier - 6mm - as you're not carrying it around and if you can, leave your mat out in a clear space so you can step on it any time.
4. Size - a standard mat is around 61cm across and 180cm long. If you are very tall, you may look for an extra-long mat and extra-long mat bag to carry it in. You may want two mats and cross them so you can turn to do your poses in any direction.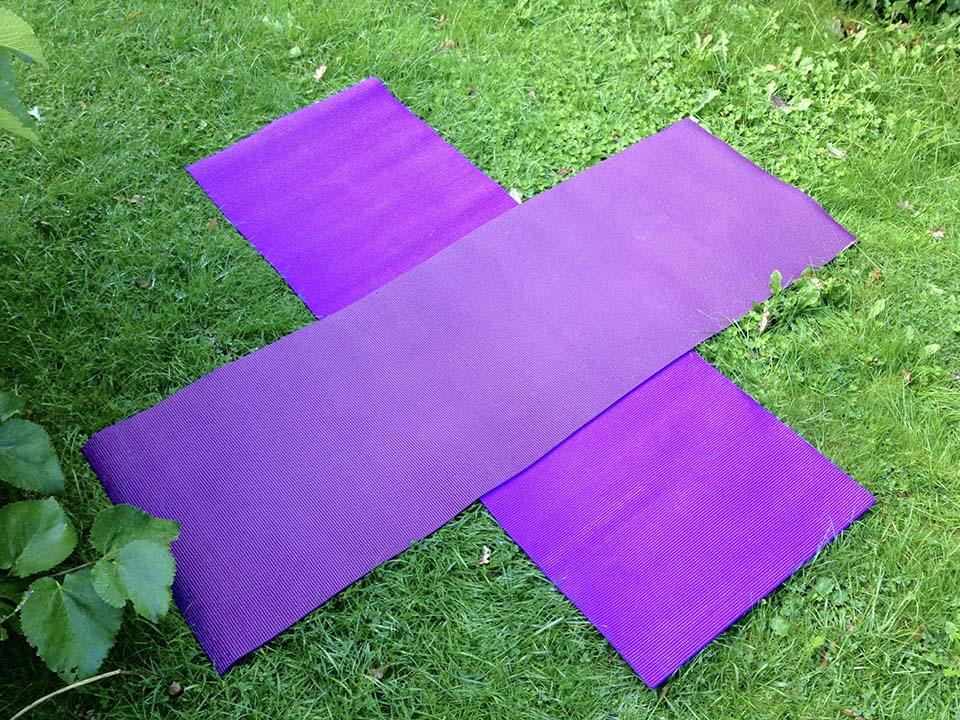 5. Matching - of course, there is a massive range of colours and colours can affect your mood, or reflect your personality. You may just prefer a dark colour so it doesn't show the dirt or have a whole array of matching yoga props. Check your mat is washable - most mats can be washed in a washing machine (no spin!) but the more natural materials may only be wipeable.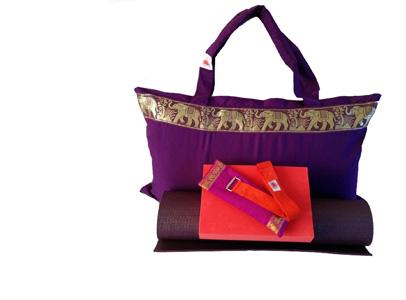 6. Value - with so many mats out there on the market, you can choose a cheap one to a super branded designer one. Its up to you how much you want to spend on a yoga mat but its often better value to buy it as a part of a yoga kit. Match it to your block, strap, eye pillow, bolster...with a huge range of colourful kit, there's something for everyone out there.
At yogaunited, we do not brand our mats. Its simple - we have a 6mm, 4mm and eco-friendly option in the most popular dark colours - what more do you need? If you would like more advice, you can speak to a real person who practices and teaches yoga at Yogaunited on 020 8449 3556.