How To Find The Best Yoga Mat Bag For You
At Yoga United, we recognise the uniqueness of each yoga practitioner. Everyone's yoga journey is personal and transformational in many ways, Yoga is about your values just as much as the shapes you make on your yoga mat.
Our hand-made accessories like yoga mat bags, bolsters, zafus, Yoga Nidra mats, and eye pillows are made by women in India and reflect good working conditions, ethics, empowerment of women in India. We are committed to provide work for and support the welfare of the women who we partner with, and the planet as much as we can.
When you choose a product manufactured by Yogaunited, you reflect the yamas and niyamas of Patanjali's 8 limbs of yoga (how to live soulfully in line with non-harming principles), and how to live fairly and wisely in this world.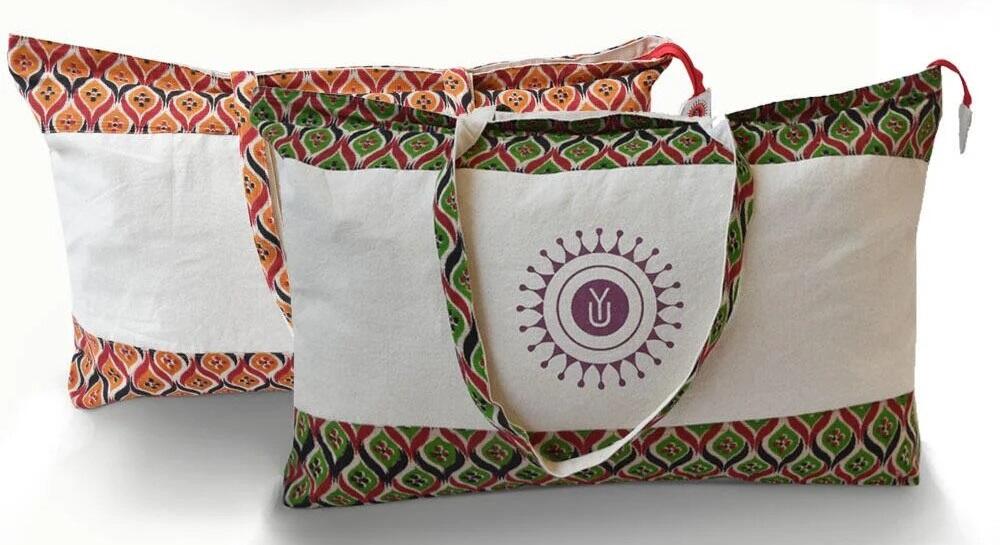 Our yoga accessories reflect style and beauty, we love aesthetically pleasing designs to complement function of course, and our principles.
More than a carry-all that includes your yoga mat, there is space for more props and stuff that you carry to class. A personal statement that stands for care and love for the people who make them in India with care and love. With our extensive range of yoga mat bags, you're sure to find one that suits your lifestyle and aesthetic delight.
We have had precious time over the Covid years, that have affected small business and the supply chains, to design some new strong, and functional mat bags that are made from natural materials, lessen the carbon footprint, improve the durability, and freshen up our ethical yoga offerings.
Let's take a look at some of the different yoga mat bags we have at Yoga United.
See our yoga bag section for our whole range of bags and choice of colours, GO TO BAG SECTION - Yoga Mat Bags
For the Yoga Practitioner on the Go
If you're constantly on the move, a full yoga kit bag might be the choice for you.
With ample space to hold your mat, yoga props and other day-to-day essentials, a yoga kit bag ensures that you're always prepared, whether you're heading to a class, a weekend retreat or just going for a yoga session after work.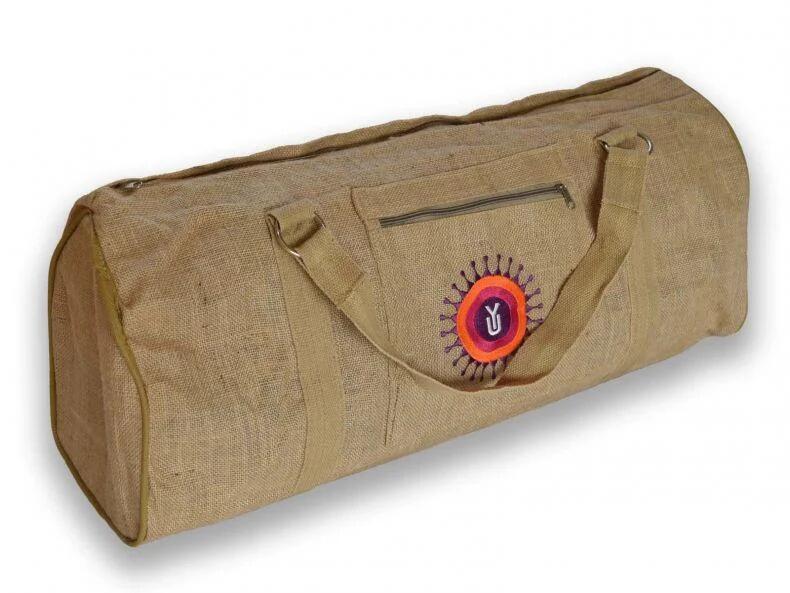 This handmade Jute yoga kit bag with signature logo is a popular choice. Ideal for carrying everything with you or for using as storage at home.
For just a mat, have a look at our new earthy-looking designed yoga mat bag
For the Stylish Yoga Man
For the discerning male yogi, style and practicality are paramount.
Our natural cotton yoga mat bag is ideal for men. The bag's neutral colours compliment any men's outfit, and the lightweight design makes it easy to carry. Made from eco-friendly materials, this durable bag ensures you are carrying your mat with style and convenience at all times.
Need a mens yoga bag? Look no further. And this one is a straight-forward carry all Carry All Yoga Bag
For the Gym-Going Yoga Lover
If you combine yoga with a rigorous gym routine, you'll want a bag that doubles up as your yoga gym bag.
A yoga gym bag should be spacious and stylish, providing plenty of space for things like your keys, phone, water bottle and gym accessories.
We think the Juco eco kit bag is great. It's robust, spacious and has enough room for more than just a yoga mat, and it looks amazing too! It's the perfect all-in-one solution for the yogi who loves the gym as much as the yoga studio.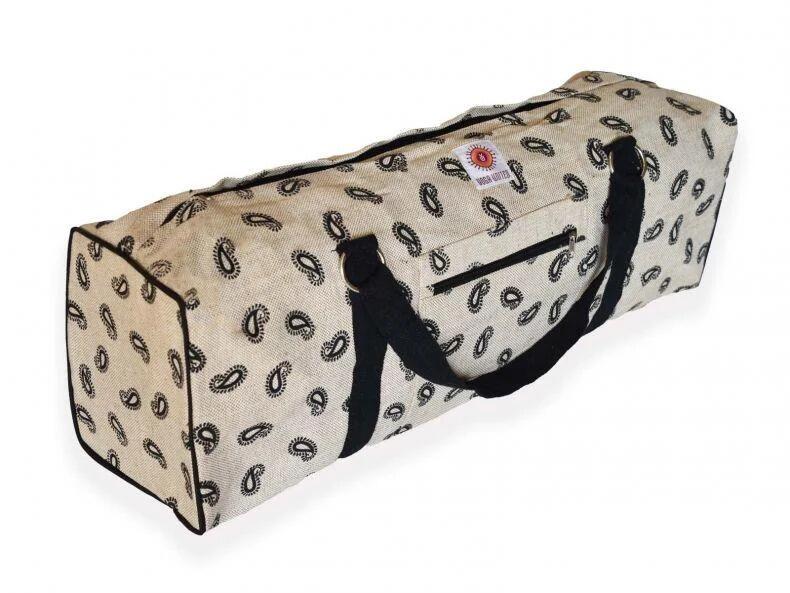 For the Yoga Teacher
As a yoga teacher, you likely carry more than just a mat to your classes. Our Teacher's Yoga Bag is designed with you in mind. Spacious and sturdy, it can comfortably hold multiple mats, blocks, straps and other essentials you need for the students in your class.
Our Teacher's Yoga Bags come in a range of colours, so you'll find something you love.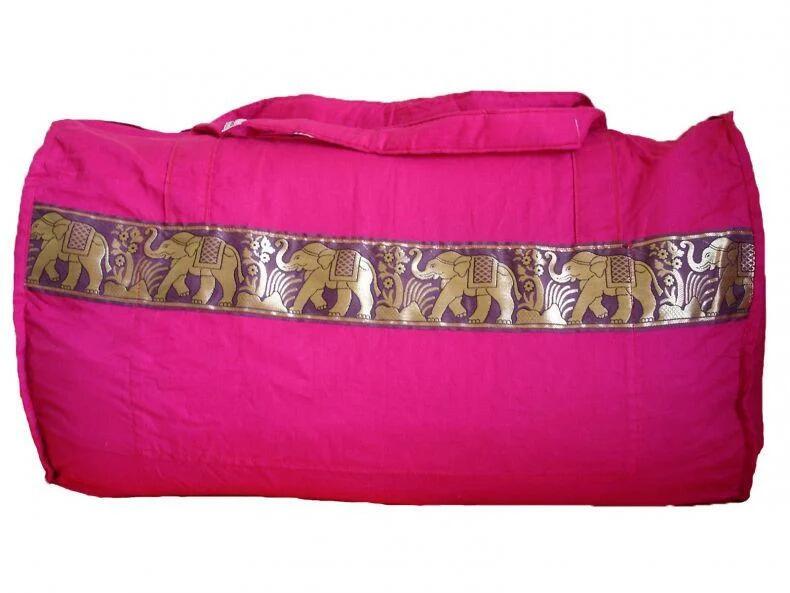 For the Vibrant Yoga Practitioner
For those who love to inject vibrance and joy into their yoga practice, a yoga bag with a bit more colour might be the thing for you.
Vibrant and eye-catching, rainbow bags have become hugely popular. This Stripey Cotton Chakra bag is the perfect example, providing a rainbow of colours to brighten up any dull day. Not just stylish, our rainbow bags are also spacious and easy to carry, making them a practical addition to your yoga equipment.
For the Glamourous Yoga Practitioner
If you value simplicity and elegance, our yoga tote bag is perfect for you.
With a sleek, slimline design, our Shakti Yoga Tote Bag is beautifully quilted in dynamically vibrant, 100% cotton fabric, used for the ceremony to imbue it with strong and powerful shakti properties!
This tote bag is minimalist yet functional, with enough space to carry your mat and other yoga essentials.
We think it's Totes amazing.
Get Ethical Yoga Mat Bags from Yoga United
Finding the perfect yoga mat bag is a personal journey that reflects your lifestyle, needs and aesthetic preferences.
At Yoga United, we cater to every taste and unique requirements with our comprehensive range of yoga mat bags. Whether you're a minimalist yogi, a vibrant yogi, a yogi on the go, or a yoga teacher, we have the perfect bag for you.
Explore our offerings and find the best yoga mat bag to accompany you on your yoga journey.