What is Yoga Therapy?
"I am not a doctor nor do I have a physical therapy license. I treat the delusion of not knowing your Self and how to find your way past pain and suffering. I guide you, not treat you" Mukunda Stiles, Yoga Therapist"
A few points about yoga therapy
• You are not alone
• A yoga therapist can support your individual needs
• Your body has its own amazing capacity for self-healing
• A yoga therapist can be witness you going through a process of deep healing & change
• Your body remembers more than your mind
• Your body holds great wisdom and is waiting for you to tune in
'When you discover ways to befriend your body, regain peace of mind, rest & sleep well, everyone around you feels the glow - pass it on' Judy Hirsh Sampath
The Yoga Therapy Boom
Yoga Therapy is fast becoming a recognised and scientifically proven mind/body system in offering people improved physical, mental, and emotional health. With over-stretched health services, high rates of absenteeism at work due to illness, and pharmaceutical fixes, yoga therapy can work alongside other treatments to support healing and wellness.
UK Parliament, the NHS, Global Yoga Therapy day and conferences in Europe, the USA and Australia are testament that people are taking notice of the outcomes of yoga therapy backed up by scientific research and trails.
Training as a Yoga Therapist
People often seek out a yoga therapist as a last resort, because they are desperate and have tried the 'usual routes' to recover good health. Mostly, clients arrive with physical, mental, emotional tension and pain of some kind.
Through my own yoga therapy practice, I have become more sensitive and intuitive the essence of this work - I have no doubt that the body expresses mental and emotional tension through physical tension - for example skin conditions can be related to irritation and anxiety, digestive problems where not only food can difficult to digest but there are times when information is too hard to process, pains in the chest and breathing problems may show up physically in times of heart break and unrequited love. Yoga therapy takes in the whole person, what's happening in their life, thought patterns, stressful events, environment and the effect on the nervous system. It requires experience, sensitivity and intuition to pick up subtle frequencies, to encourage clients to take back responsibility for their own healing, and to meet and greet whatever arises from the body as a messenger. Once the message has been received, change often occurs. In conjunction with traditional medicine, this is a powerful path to recovery.
So powerful in fact, that I was inspired to train yoga teachers and health professionals to take yoga therapy out into the world. I am blown away with the current pioneering trainees, their dedication, trust in the process and passion for growth and change as they discover the magic of yoga therapy training, and it's repercussions in healing physical, mental, emotional and spiritual wounds on this planet.
What courses are on offer with Yoga United Education?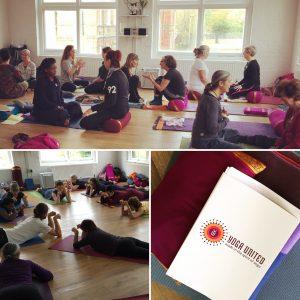 Our 60 hour foundation Essentials course is quality assured by the British Wheel of Yoga (BWY) and introduces the essence of yoga therapy tools, ways to self-care, skills on listening, collaboration and co-creation, trauma-informed language, anatomy and physiology, common conditions like anxiety, depression, back pain. As the focus is on our own self-healing, this can be a stand alone foundation course for those who wish to receive yoga therapy, try out new ways of being within a close-knit group of peers, and also as the first of 10 modules that make up our flagship professional Yoga Therapy training (550hrs) with an option for a Children's track in collaboration with the Special Yoga Foundation.
Judy Hirsh Sampath, that's me! is the yoga therapy course leader, with tutors in their specialist fields like Antonia Boyle's NLP revelations, Beverley Nolan's somatic anatomy, Mary Mackie's yoga therapy focused body systems, Jyoti Jo Manuel's heart-focused practices, James Boag's stories from the yoga texts, Uma Dinsmore Tuli's feminist wisdom and yoga nidra expertise, and Michael Lee's Phoenix Rising yoga therapy essentials.
You don't have to be a yoga teacher to be tune into your wise self for personal and/or professional development.
My Journey to Yoga Therapy
It was on my first day teaching yoga in an NHS mental health unit 15 years ago that I realised I was ill-equipped, lacked knowledge, and had little self-confidence as a newly qualified yoga teacher. My lesson plan started with the students lying in a semi-supine position so I could settle myself and have a few moments when they weren't looking directly into the eyes of a nervous yoga teacher. I guessed it would also give them time to do the same so we could all settle, relax and feel safe before we started some warm ups. yoga therapy over a ball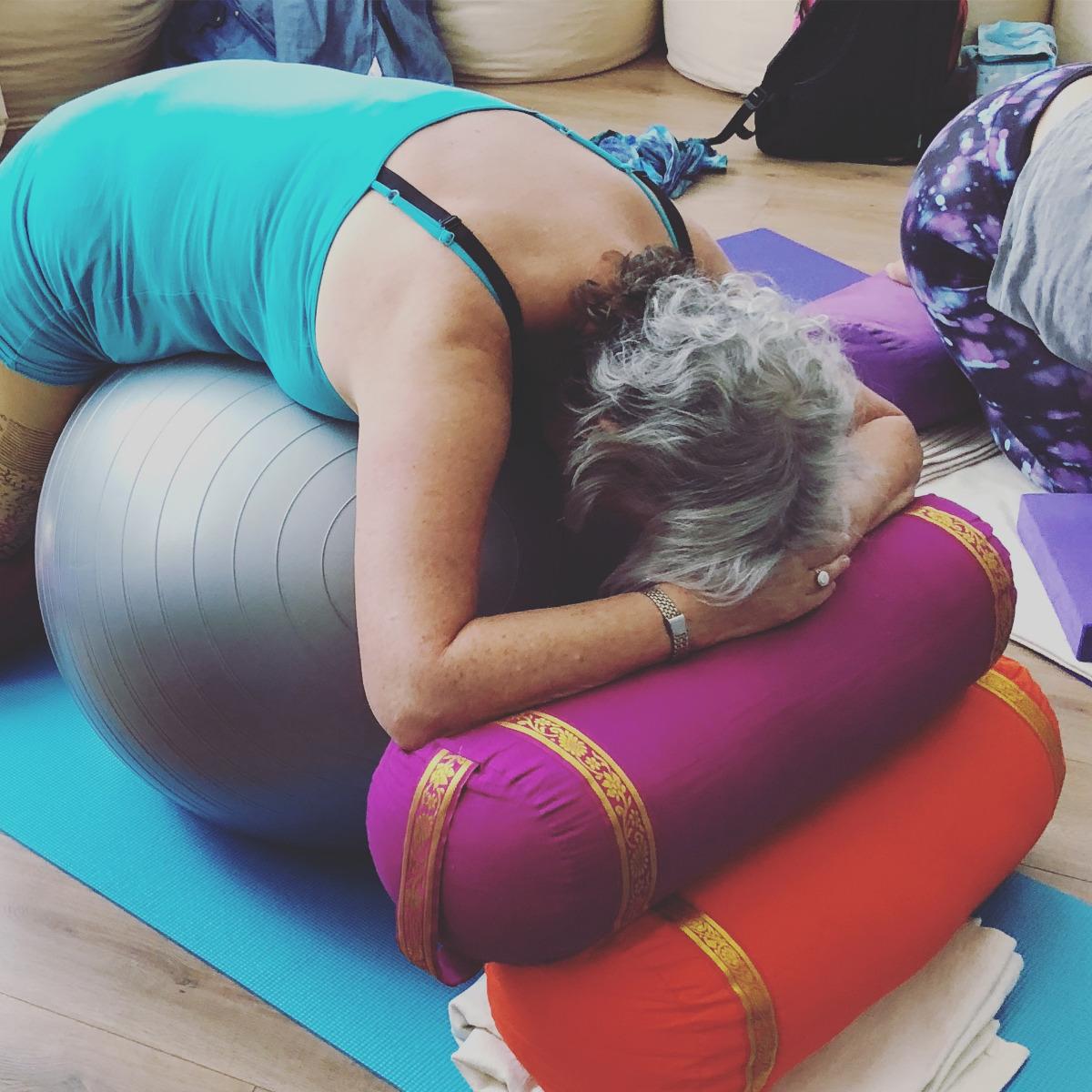 As I entered the room, one woman was huddled in a corner crying helplessly, another was standing moving from foot to foot and fidgeting with eyes wide open, one young man was sitting on the floor almost curled into a ball with very long hair and looking totally blocked off from the world... and some other 'patients' who did not strike me immediately by their physicality – a lot of self-doubt and imposter surfaced in me but somehow I found the resources to get through the class – that's another story but needless to say, I could not start with them all lying semi-supine! the lesson plan was dropped and I had to find some creative ways to hold a safe space for all of the students - moving or still, emotional or blank. As I walked across to the Forensic unit for my next new class, I could only imagine who I would meet, and what I might find. What I knew was that I did not feel equipped to teach yoga in this setting, and I was going to invest in some yoga therapy training to gain more knowledge and confidence!
Over the years, as a yoga teacher, yoga therapist and as a human being, these two classes turned out to be the ones I would look forward to most each week. I received the best learning from not knowing who or what was going to show up, to find confidence in my inner knowing, intuitively making up sequences and affirmations, and finding out the students looked forward to the sessions so much too!
Being a Yoga Therapist
15 years later, I have supported students and clients with mental health issues, infertility disappointments, coming to terms with ageing, grief, loss of identity... and when I reflect on their suffering, what I find is probably common to all - 'an ailing spirit with the most amazing capacity for tolerating, adapting and healing'.
How wonderful would it be to support others in tuning into their own knowledge in the body's amazing capacity for self-healing?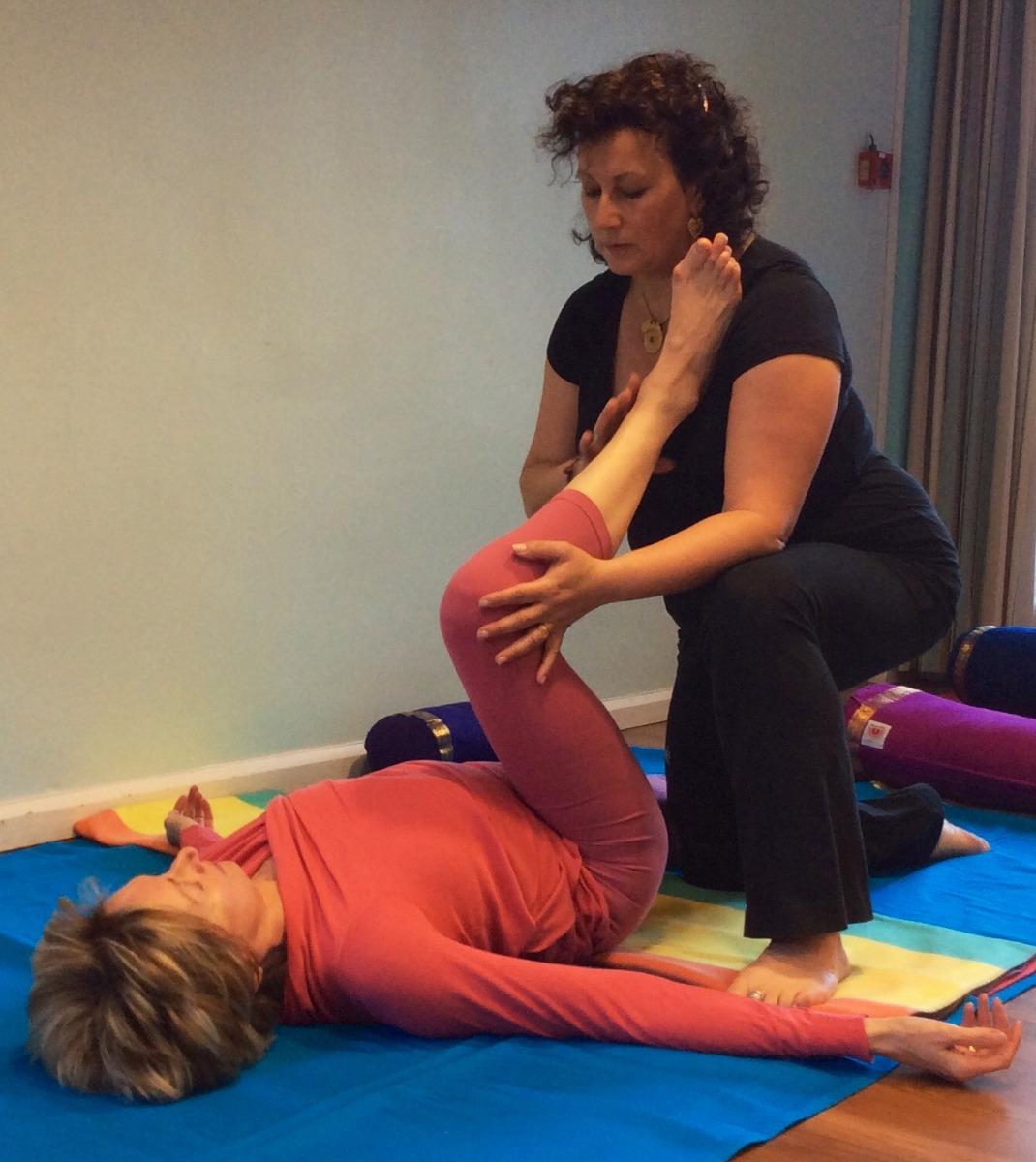 To offer clients a yoga therapy experience that is healing and transformative, the therapist needs to be in a continuing lifelong journey of their own - we are also human, we don't have it all worked out, we are not always happy and joyful, we don't have all the answers...so this way of being starts with You! How do you look after your own needs, how do you heal yourself? Just because you practice yoga or are a teacher or therapist, doesn't mean you know how to do this by yourself. Finding peer support, mentoring, therapy for yourself ensures you are always connected to the work, and as you may have experienced with meditation, it somehow has more power with others around you, in it with you.
Tuning into the body and the wisdom that lies within is often described as 're-membering' what is already know deep inside or experienced long ago, or as 'coming home', re-establishing deeper psychological, therapeutic and universal connections that can offer new hope, possibilities and new ways of being in the world.
Whether it's an ailing spirit or a bad back, learn skills to tune into your own wisdom, and discover a sensitive and intuitive approach to relationship with which to meet the other person, whether a client or someone in your life.
Let us know how we can support you with yoga therapy journey whether you're looking for 1-2-1, more food for the soul in small groups for your own learning, or through a professional training in yoga therapy.
For a full prospectus, contact Philippa at education@yogaunited.com
or call the office on 020 8361882
Article written by Judy Hirsh Sampath,
Yoga Teacher (BWYdip, Yoga Elder IYN)
Yoga Therapist (PRYT600, C-IAYT, CNHC)
Yoga Therapy Trainer (YUYT 550hrs)
#yoga, #therapy, #psychology, #healing, #yoga united, #London, #training, #course, #bwy modulePosted in: Yoga Education